Meet The Family BehinD Maple Grove Syrup
In the small 'ghost town' of Uhthoff in Severn Township, you will come upon Maple Grove Syrup. Within this 50-acre sugar bush of towering maple trees, they produce 100% pure maple syrup on a traditional wood-fired evaporator. Their trees have produced high-quality maple syrup for generations.
Maple Grove Syrup started producing maple syrup with 50 buckets and a large open fire. Today, their renovated sugar camp has a new 3×10 Dominion and Grimm evaporator and over 1100 taps.
This past Thanksgiving, I had the pleasure of meeting Brent, Amy, Abigail and Charlotte Beers at their lovely farm. Brent was more than happy to give me a personal tour of his property as well as his sugar shack and there is no denying that he takes great pride in his work as well as his family. Brent has definitely found his true passion and I am thrilled to include him in our Community Spotlight.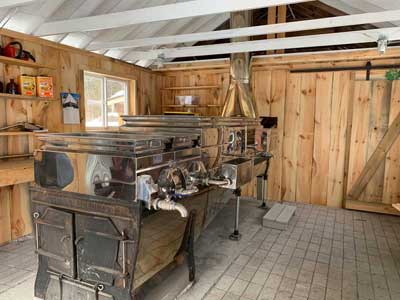 When did Maple Grove Syrup first open and can you give us a little bit of the history behind Maple Grove Syrup?
Brent learned how to make maple syrup years ago from his grandfather and a family friend. Together, we started making syrup on a small scale for family and friends about 10 years ago. Our love of syrup quickly expanded and for the last five years we have been making syrup under the name of Maple Grove Syrup.
How many acres is Maple Grove Syrup situated on and do you also live on the property?
Our property is 50 acres and it is also our home. We can see the sugar camp from our back deck and it reminds us all year long of what we have accomplished in such a short time.
Is this your first time owning a local business and if so, was it always a dream of yours?
We, especially Brent, have always had an entrepreneurial spirit and Brent has sold firewood and plowed driveways in the past but Maple Grove Syrup is our first real venture into local business ownership.
Why the name Maple Grove? We understand Maple Grove is a family run business – is this a family name?
As you approach our sugar camp you can see a ring of fabulous maple trees looking over our property. These trees are far older and larger than any others in the area and their beauty in all seasons inspired our name.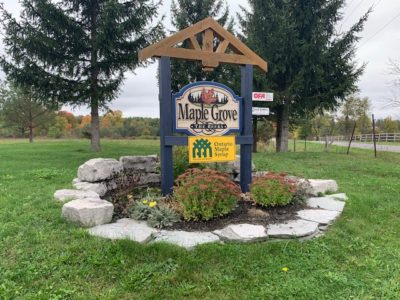 Why did you choose maple syrup and what do you hope people gain from stopping by Maple Grove?
Maple syrup is one of the most well known Canadian traditions that we both grew up enjoying! When we first moved onto the property, the maple grove and bush was amazing and a joy to view; how could we ignore such an opportunity! When people stop in to visit us, we want them to experience the sights, smells and tastes of a traditional maple syrup operation. Walk the forest, see the animal tracks and watch maple syrup being made the old fashioned way!
Is maple syrup a seasonal event and how much work goes into this type of production?
Maple syrup is made in the spring, from late February/early March to as late as Easter. We are 100% dependent on the temperatures in spring and every year is a little bit different. Off season we are more than busy cutting firewood for the next year, upgrading and maintaining lines and equipment. You can say it's 365 days of work every year!
How many trees do you have on site and how much do you produce each season?
We currently have 1100 taps but room to grow in the future. Our season fluctuates with the weather but we can expect anywhere from 500 to 1000 litres of syrup a year
If someone was coming for a sugar bush tour, what can they expect?
We offer both walking tours and sleigh rides depending on the season; both will take you through our fields and into the sugar bush when you can learn about the process, see our lines and collection tanks and end up in the sugar camp where we show you the evaporator and how it operates. During the spring, you can see the evaporator in action and if you are lucky, pour off your very own bottle of syrup to take home!
What events do you offer throughout the year?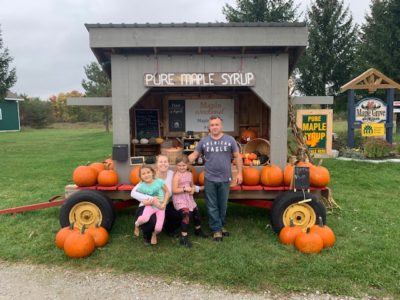 In the spring we participate in "Maple Weekend" and "Fall in Love with Maple" which are sponsored by the Ontario Maple Producers Association in the spring and fall, respectively. We also offer walking tours during the spring, fall and winter and sleigh rides in December and January when the snow cooperates.
What is your favourite thing about owning a local business?
The people! We love inviting local families into the sugar camp and showing them what local can do! We also attract visitors from urban areas that have never had the opportunity to explore the great natural spaces we offer in Simcoe County. It's great to interact and learn from everyone who comes out.
What does Brent like to do in his free time?
I don't think Brent actually has any free time! Just kidding, when he is not preparing for the next syrup season he is playing with our children, crafting woodworking projects in the shop (including cutting boards, centerpieces for Christmas and even furniture for the house) and when he can, hitting the gym for a little relaxation.
If you had any words of encouragement or advice for someone thinking of opening up their own business to follow their dreams, what would they be?
Our advice would be to "just go for it"! It doesn't matter how big or small your business idea is, if you want it, get it. We started off small and let the business direct and grow itself to meet the needs and wants of our community. Also connecting with people over social media has been amazing for us and allowed us to meet people that live in our community that we would never have met any other way.
Maple Grove Syrup is located at 2448 Burnside Line in Severn and it's worth the drive! We encourage you to follow them on facebook at: Maple Grove Syrup and to follow them on Instagram at: Maplegrovesyrupsevern to keep up to to date with special events that they host throughout the year.
For more information please also visit their website at: MapleGroveSyrup.ca.