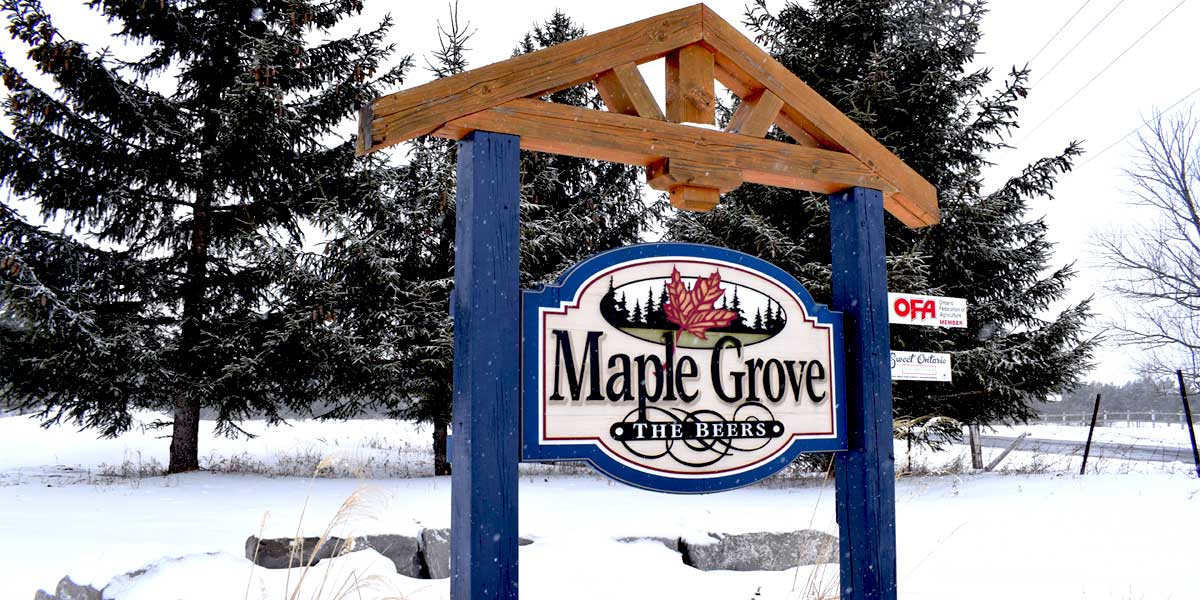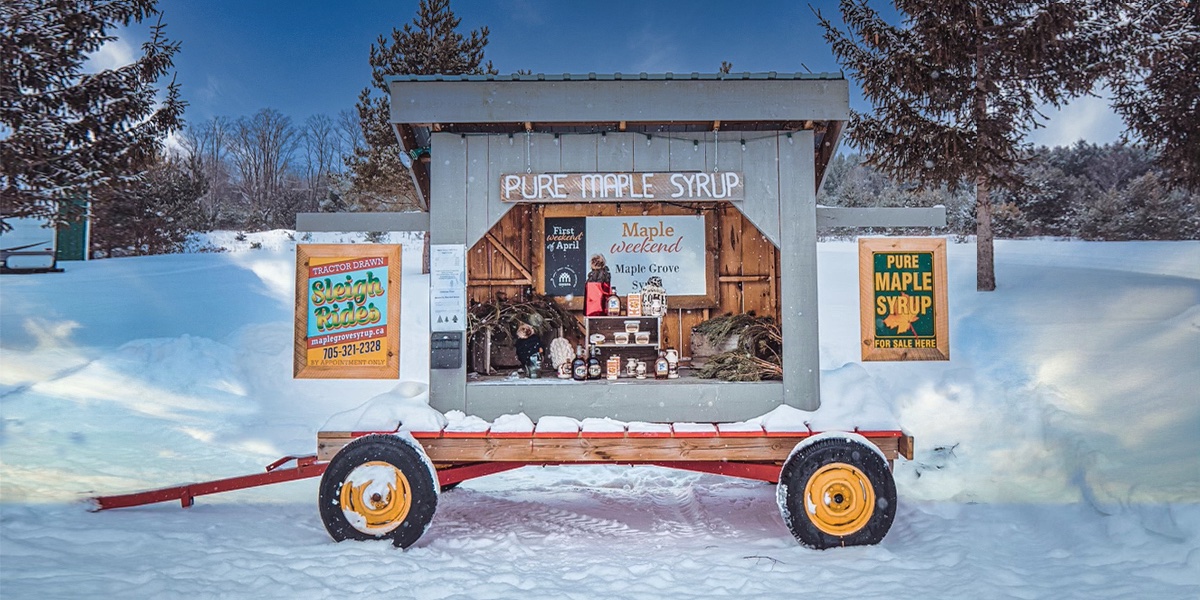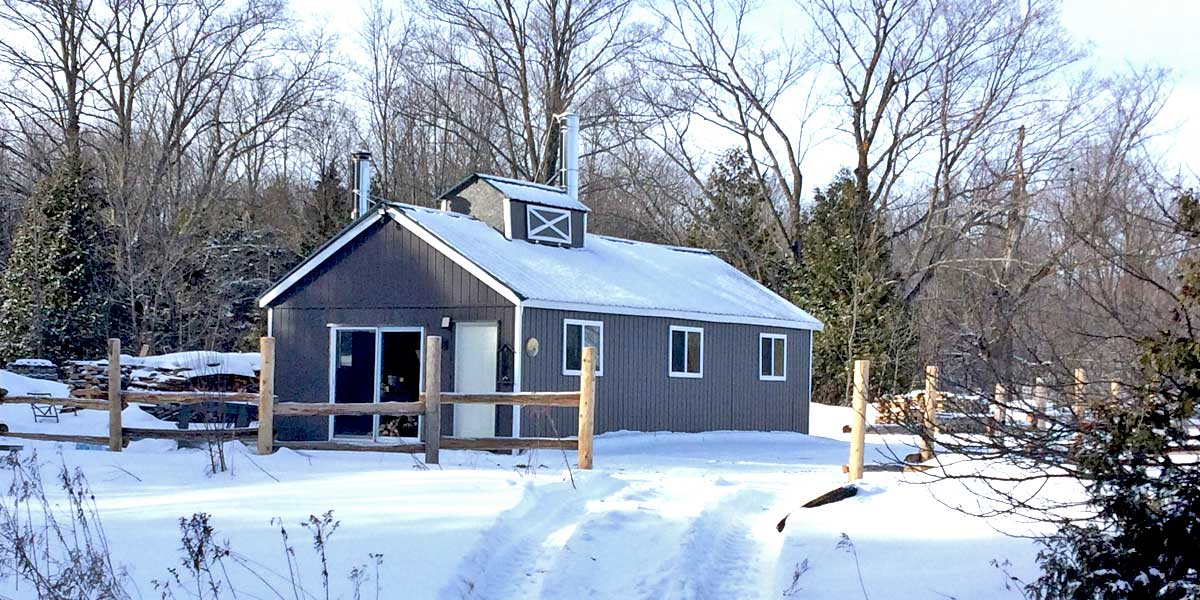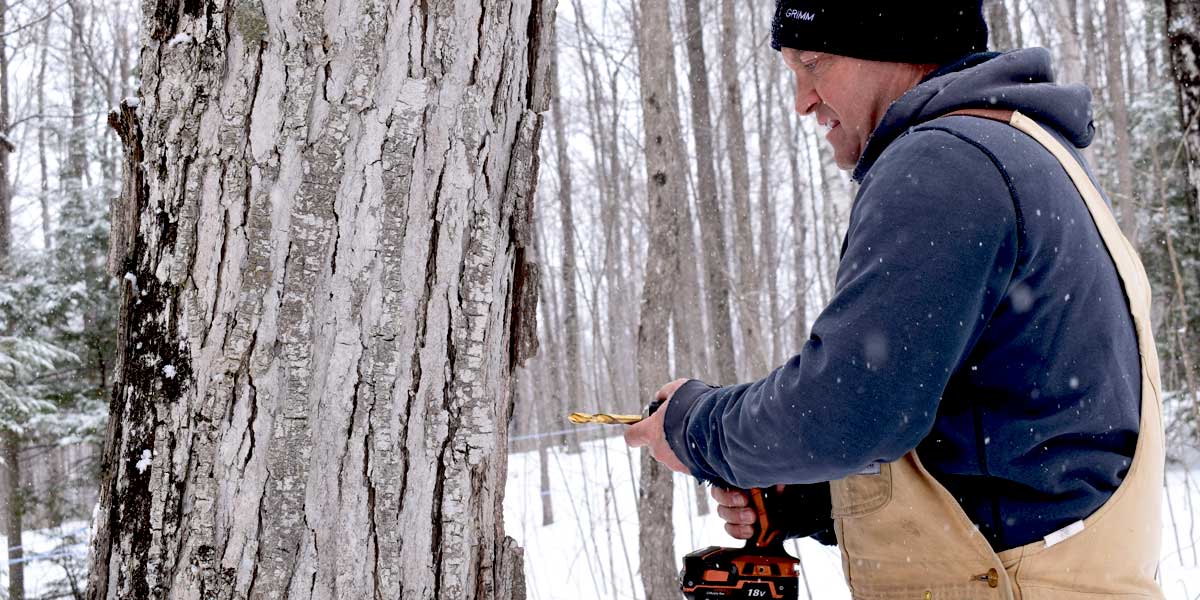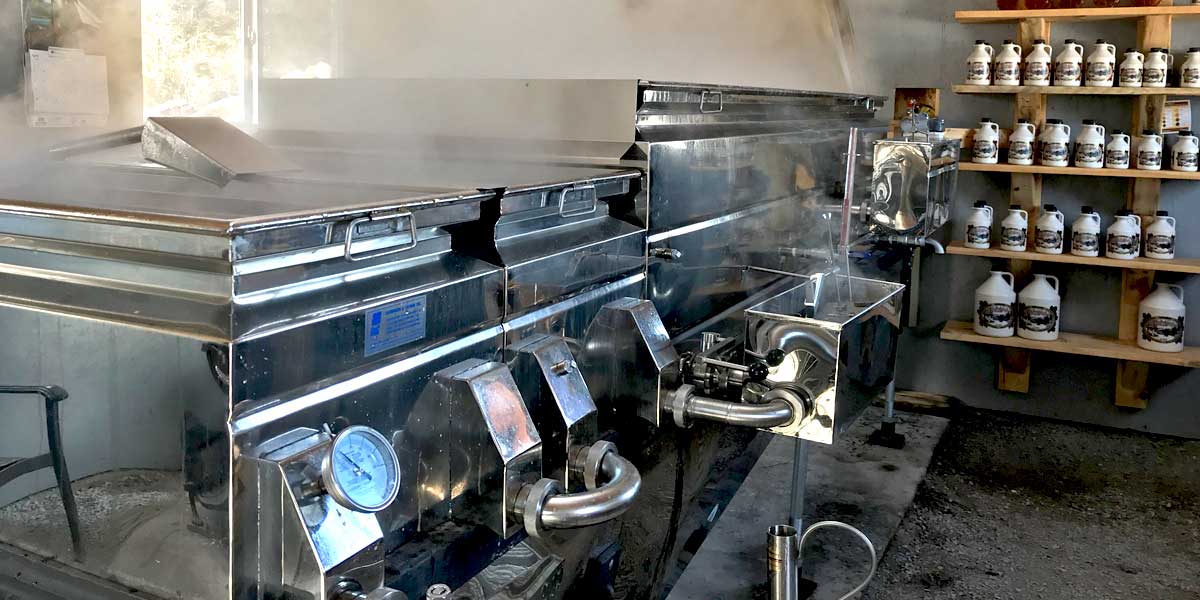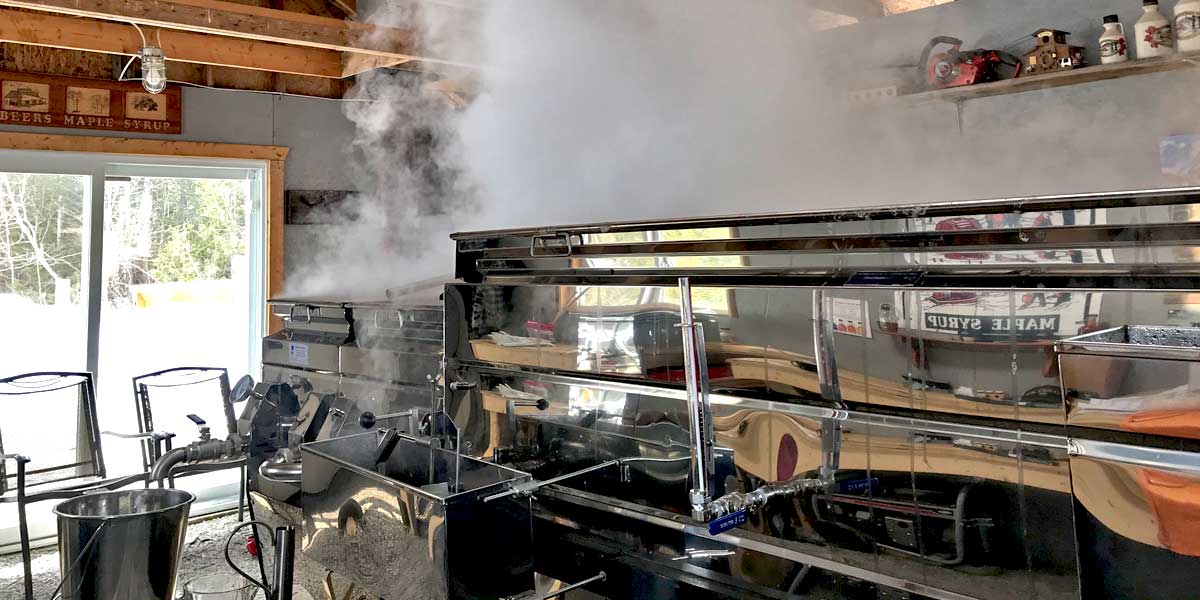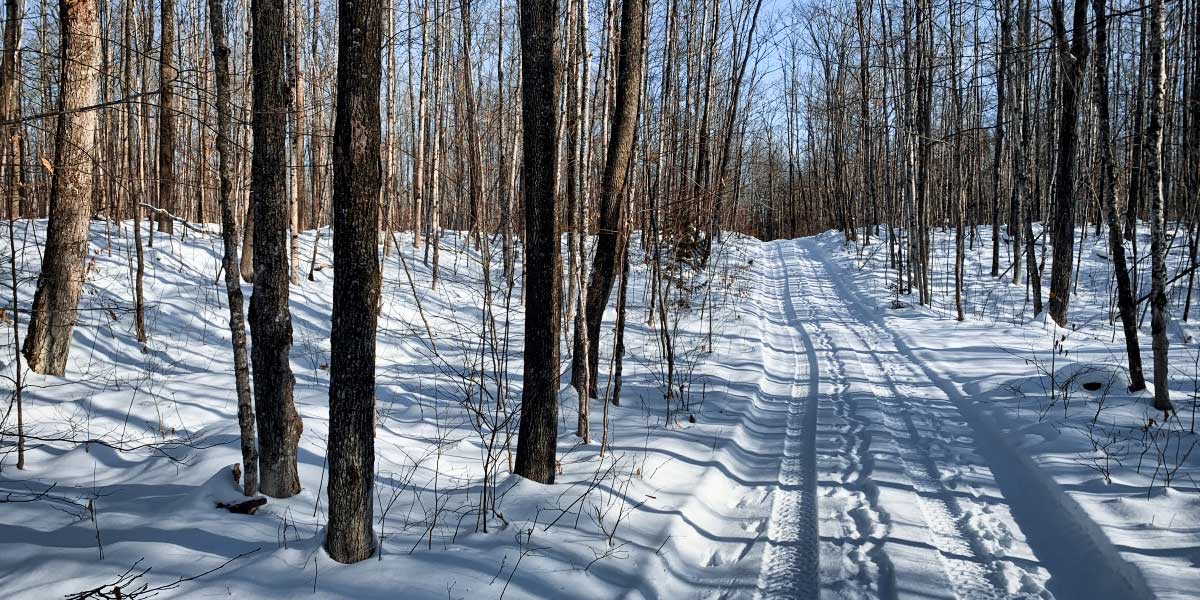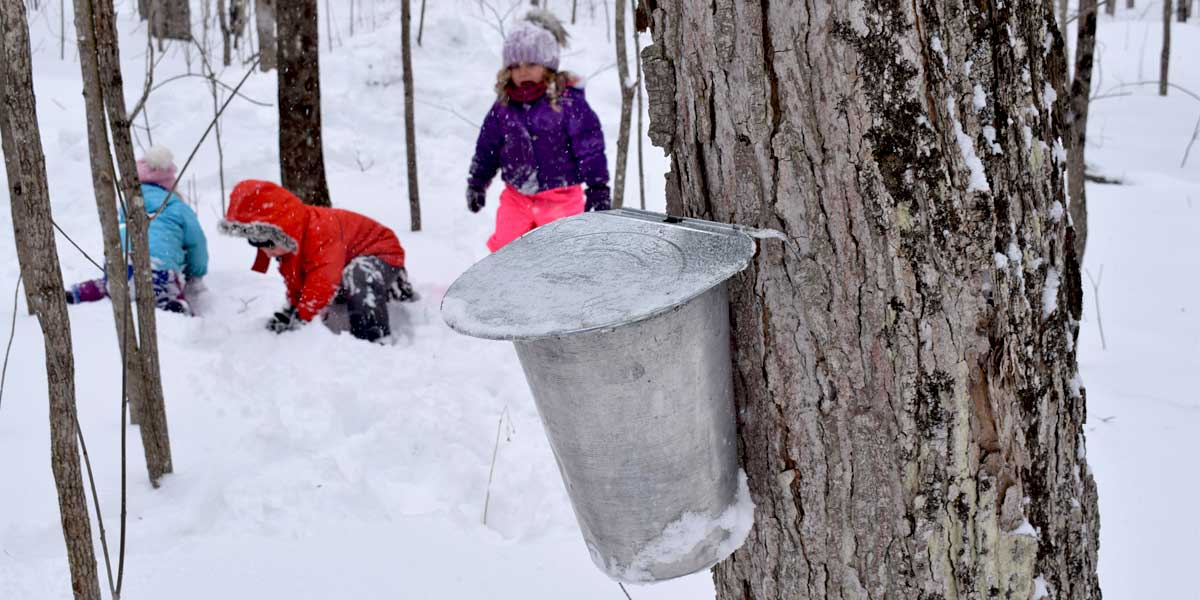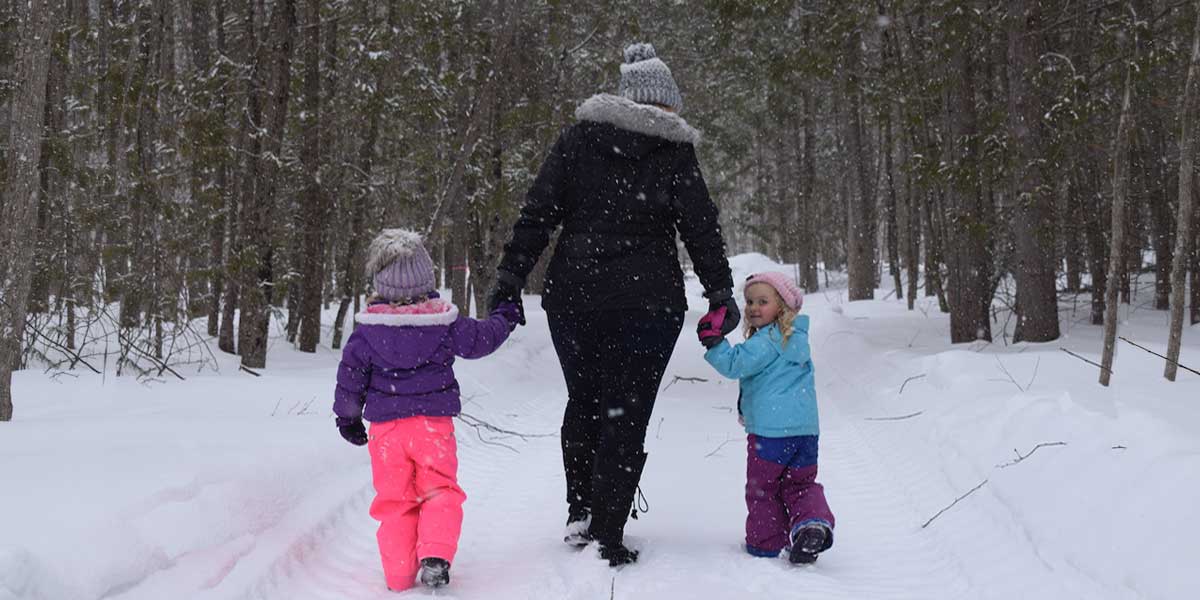 Pure Maple Syrup road shack
slider-brent-tapping-tree

Maple Grove Syrup, Serving the Severn Township and Orillia Areas
Our tour season is done for now but we will be back up and running again in the fall for more walking tours, and will be introducing wagon rides just in time to catch the fall colours.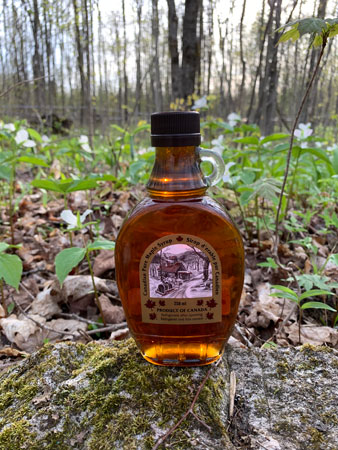 Hosts: Brent, Amy, Abigail and Charlotte Beers
In the small 'ghost town' of Uhthoff in Severn Township (just 12 km from downtown Orillia as the crow flies), you'll come upon Maple Grove Syrup. Within this 50-acre sugar bush of towering maple trees, we produce 100% pure maple syrup on a traditional wood-fired evaporator. Our trees have produced high-quality maple syrup for generations.
We started producing maple syrup with 50 buckets and a large open fire. Today, our renovated sugar camp has a new 3×10 Dominion and Grimm evaporator.
We operate with 800 to 900 taps: combining buckets, pipeline and tireless hard work involving the entire family. This includes our two young daughters and our beagle, Molly!
MAPLE SYRUP CAN BE PURCHASED AT
MAPLE GROVE SYRUP FACTS
Maple syrup can be used straight out of the bottle as a delicious topping for pancakes or as a more nutritional alternative to granulated sugar in baking.
Maple syrup is gluten free, vegan, paleo, non-GMP and produced from trees allowed to grow naturally without fertilizers or pesticides.
Maple Grove 100% Pure Maple Syrup is situated on a 50 acre sugar bush that has been producing high-quality maple syrup for generations. Our syrup is made using a traditional wood-fired evaporator operated by Brent and Amy Beers with help from their two young daughters.
Maple Grove does not use reverse osmosis, or a filter press, and no chemicals are added.
MAPLE GROVE FARM GATE SALES
We are located 12 km from Orillia in the small community of Uhthoff in Severn Township on Burnside Line.
Please email or call in advance to make sure someone is home 705-321-2328 or during syrup season in the spring, watch for the sign at the road or the steam coming from the top of the sugar camp.
Our syrup is available all year round. It makes a great gift, and we also supply our syrup for weddings and other special occasions.
We now carry Maple Sugar Candy and nostalgic tins for travellers. Items are all available at the farm gate!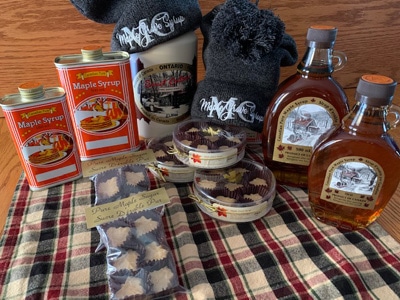 We welcome visitors when we are boiling.
We will have our road sign out, or you can contact us for a visit.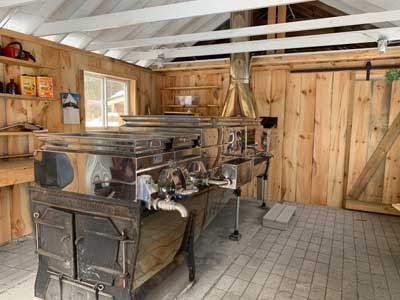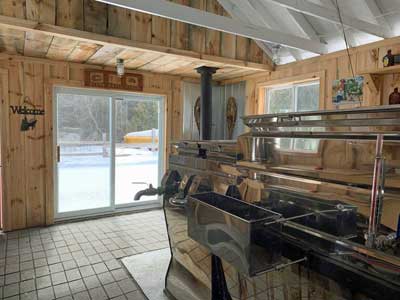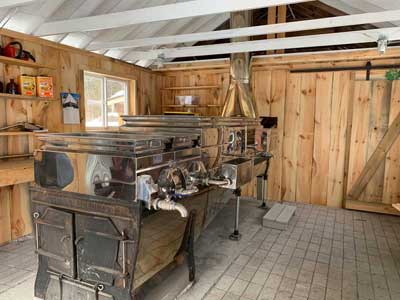 Spring – when the sap starts to run – is a time of great excitement for our family.
Maple Weekend runs April 2-3, 2022.
We would love if you would come and enjoy syrup season with us!
SEPT 21, 2021 CTV INTERVIEW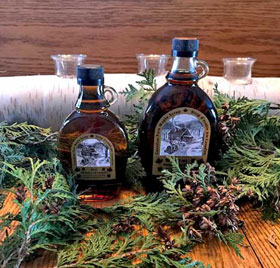 All-natural 100% Pure Maple Syrup
is available in Glass Bottles, sizes
250 ml
500 ml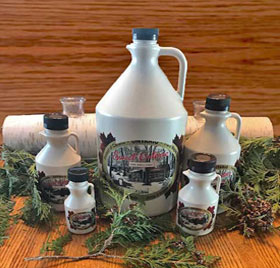 We also have Plastic Jugs in sizes
100 ml
250 ml
500 ml
1 litre
4 litres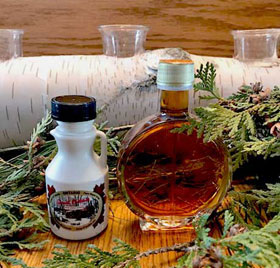 This beautiful combination of
100 ml Jug and 100 ml Glass Bottle
is often used for Wedding Favours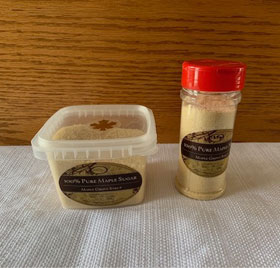 New this year we have made 100% Pure Maple Granulated Sugar, available in 125 gram and 200 gram containers. Great for baking, a spoonful in your tea or morning coffee!
Self-guided tour of our sugar bush (bring your rubber boots)
Sample our all-natural 100% pure maple syrup and learn how sap turns to syrup
Enjoy a light lunch and refreshments
Family-friendly activities (weather-dependent)
Coupons for Mariposa Market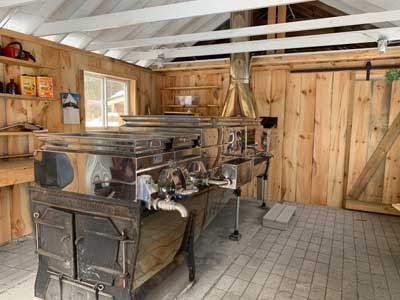 ---
A New Addition To the farm
This year we purchased laying hens. It's amazing going out in the morning and picking up our own eggs. We are slowly moving ourselves towards sustainability, as our sugar camp is solar powered and, our evaporator is wood fired with wood from the dead fall over the summer and winter . We are hoping to instil the appreciation of the environment and Mother Nature with our girls.